BECOME A KINDERGUITAR TEACHER!
Teaching children has many advantages, aside from simply being fun and fulfilling. As a nurturer and educator, you will very likely have the opportunity to watch your first students grow as musicians and as human beings for several years, and often until they leave for college. Choosing to teach children rather than adults means choosing to teach more than just guitar. In a day and age when regular, extended one-on-one interaction with a mentor is rare, you are in a unique position to influence children positively and build long-term relationships with them. Nurturing what may be a child's first social foray into the world through music is a noble and wonderful responsibility.
KINDERGUITAR is offering licensing and certification to qualified educators and guitarists seeking to expand their teaching credentials and improve their skills for teaching young children. Whether you are just beginning your career or already have a teaching studio, KinderGuitar's Teacher Training will provide you with the skills, expertise, and reputation to succeed as a specialized teacher for children.
Applicants to the KinderGuitar Teacher certification and training program must meet the following requirements:
– high-level proficiency on the classical guitar (other styles a plus)
– enrollment in or completion of an accredited music program
– commitment to building a strong, long-term student following
– love for children
– enthusiasm and positive energy
– professional attitude
– desire to work with children as both a mentor and educator
BENEFITS OF LICENSING AND CERTIFICATION
KinderGuitar Licensing and Certification benefits include:
– High Hourly Wage
Because our curriculum is designed for very small groups, KinderGuitar teachers earn a very high hourly wage while the classes remain affordable for parents.
– Flexible Schedule
You determine your own teaching schedule, allowing you the flexibility to supplement your current activities if you are a busy performer or are already teaching.
– Developmentally Sound and Well-Tested Curriculum [view Curriculum Overview Teachers' Edition here]
KinderGuitar provides you with an extensive, age-appropriate, and diverse curriculum to start children ages 5-10 on the guitar. Through a carefully developed and varied set of songs, activities, and goals, students have fun and progress quickly while developing the necessary musical and technical skills to play guitar.
– Training, Credentials, and Material for Teaching Children
Comprehensive training will provide you with all the knowledge necessary to successfully teach young children guitar and to structure an efficient teaching studio. Our respected credentials will help you establish yourself as a teacher of young children.
– Marketing Support
Licensed teachers are granted use of the KinderGuitar brand to advertise their studios using low-cost, customizable marketing material. KinderGuitar will help establish your studio presence through advertising, student referral, and direct support. Your name and information will also be listed on the KinderGuitar Certified Teacher roster on our website.
– KinderGuitar Website
New material is posted on the KinderGuitar website periodically for class enrichment, and is only available to certified teachers. Our website also provides access to a KinderGuitar teachers' support forum, links to our teachers' professional websites for interested parents, and downloadable forms and templates available for both business management and classroom use, including newsletters, concert programs, lesson plans, and copy for classifieds.
WHAT OUR LICENSED TEACHERS ARE SAYING
"It has been a year since I was licensed and certified in the KinderGuitar program to teach, use the business model, and to see what an amazing difference this program can make in the lives of my students, and in my own development. There is a consistent joy that is pervasive in this program.
I have added students who were discouraged with other "school of music" or "prep programs." KinderGuitar is distinct in pedagogy, curriculum, and business model. I have had many competing teachers and graduate students review my website and program; they know it can be a very good way to earn a living over time. They also are amazed when their 5-10 year olds are still struggling and ours are playing, and excited to play."
— Rodney Burr, Certified and Licensed KinderGuitar Teacher
"I have taught the KinderGuitar method for roughly two years now, and I can say in no uncertain terms that it is the clearest, "funnest," and most effective guitar method that I have encountered. The "secret" to KinderGuitar is that it breaks guitar technique into to its most basic components without talking down to or boring the student. Unlike many institutionalized method books, KinderGuitar does not assume that the student has a preexisting grasp of music theory, the ability to play complex melodies or harmony instantly, or even a very specific interest in a particular genre of music–and yet, the method can move as fast as the student can learn, growing in depth and difficulty as the situation demands. I've employed the KinderGuitar curriculum to teach five year olds, middle school students, high schoolers, and even adults, and it has in every case fostered a generous, challenging, and enjoyable learning environment.
Above all else, KinderGuitar allows the beginning guitarist to play soon and well, all the while building a foundation for a more involved and mature musical understanding down the line. I've never encountered a pedagogical tool so well suited to both beginners and aspiring virtuosos, and I have yet to find a way of teaching guitar that speaks so plainly and capably to young children. Parents and would-be guitarists of all ages would do well to give KinderGuitar a chance."
— Karl Evangelista, Licensed and Certified KinderGuitar Teacher
TEACHER APPLICATION PROCESS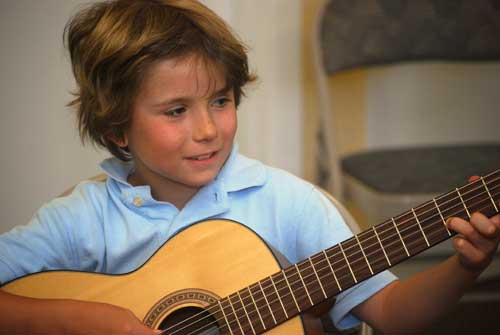 Step 1 – PRELIMINARY INTERVIEW
Step 2 – SUBMIT APPLICATION
YOUR APPLICATION FILE IS COMPLETE WHEN OUR OFFICE HAS RECEIVED ALL OF THE BELOW:
Signed application form and $50 application fee
Resume with picture
Two recommendations pertaining to your ability to work with children (one recommendation should be from a principal instructor)
Proof of enrollment or completion from accredited music program
Video/recording of your playing
To request an application form and the recommendation forms please email: leo@kinderguitar.com
The application review process takes between 2-4 weeks.
Step 3 – TRAINING
Upon receipt of the signed contract and payment of the initial training and certification fee, you will receive the Certified KinderGuitar Teacher's Training Manual 1, the Certified KinderGuitar Teacher's Guide to the Skill Building Curriculum, and other required training material. You will be expected to master the material and information in these volumes within 60 days. In addition, we strongly recommend reading Edmund Sprunger's Helping Parents Practice. This is available from Yes Publishing at http://yespublishing.com. During this training period, founder Leo Garcia will be available for questions, support, and guidance.
At the end of this 60 day period, applicants will participate in an informational and training interview where they will be required to demonstrate their command of the material in the Training Manual, Guide to the Curriculum, and other required reading.
Step 4 – LICENSING AND CERTIFICATION
Upon successful completion of the informational and training interview, you are a Licensed and Certified KinderGuitar Teacher!
KinderGuitar will provide you with:
Access to KinderGuitar Logo for marketing purposes
KinderGuitar business templates
A page on KinderGuitar's website for referrals
Order forms for KinderGuitar books your students will need
Access to supplemental KinderGuitar materials and support
COSTS:
INITIAL TRAINING AND CERTIFICATION FEE: Inquire
INITIAL LICENSING FEE: Inquire
2012 LICENSING DUES: Inquire
Completed teacher applications can be mailed to:
KinderGuitar
P.O. Box 20133
Oakland, CA 94620-0133